On Thursday, June 1, 2023, all Teclib' employees gathered for the half-yearly corporate event.

Our colleagues have traveled from different parts of France and Europe to come and spend time talking about current and future projects.

The Teclib' Day brings us together and strengthens our bonds, making us a tightly-knit team.
The agenda of the Teclib' Day:
The day begins at 9 a.m. with a breakfast to welcome everyone and provide an opportunity for casual conversation before the presentations commence.
Each Business Unit of the company presents its strategies, developments, objectives, and future visions.
The session kicks off with Pascal Aubry (CEO) taking the lead.
Buy The Way: https://www.buy-the-way.com/ :
Chloé Robin presented the agency's latest updates, including the acquisition of new clients, the evolution of turnover, projections for the current and upcoming years, and their goals.
Hodei: https://www.hodei.net/ :
Franck Pâtissier presented their visions and expectations, expressing their commitment to further contribute to the success of the Odoo project. They also discussed their prospects for the end of 2023.
Edition :
GLPI takes great pride in celebrating its 20th anniversary and extends heartfelt gratitude to all the contributors and the entire community who follow, support, and utilize our tool.
François Legastelois, the edition director, is keen to emphasize the total involvement of his team, including R&D, core-team, the Cloud team, Administrative, Marketing, Professional Services, our sales representatives, and Legal.
We would like to highlight the remarkable achievement of our work-study developer, Marie Bressy, who has created a plugin that seamlessly integrates Centreon and GLPI. This integration allows users to access key data of their monitored machines in Centreon, directly within the GLPI interface. Through a new tab available on the respective computers, users can view not only general host information but also the services installed on it.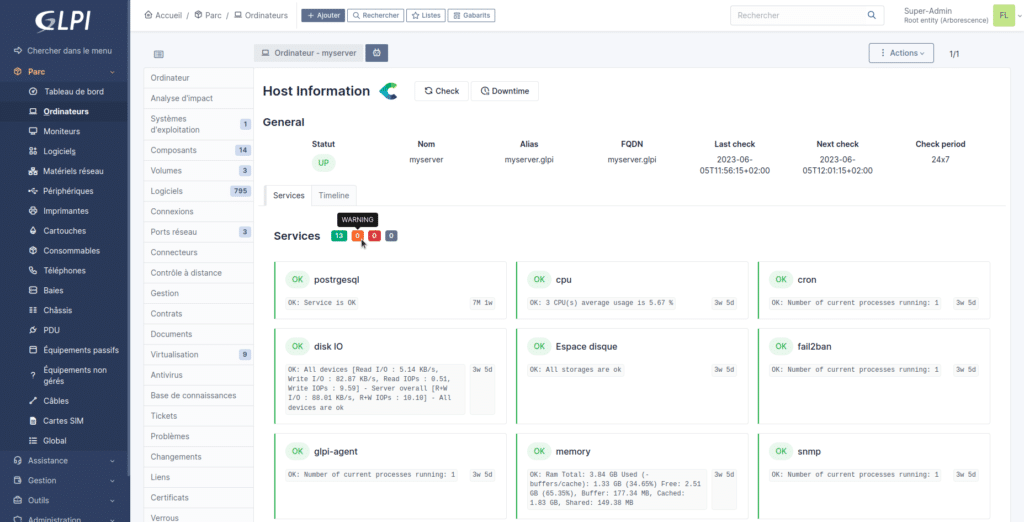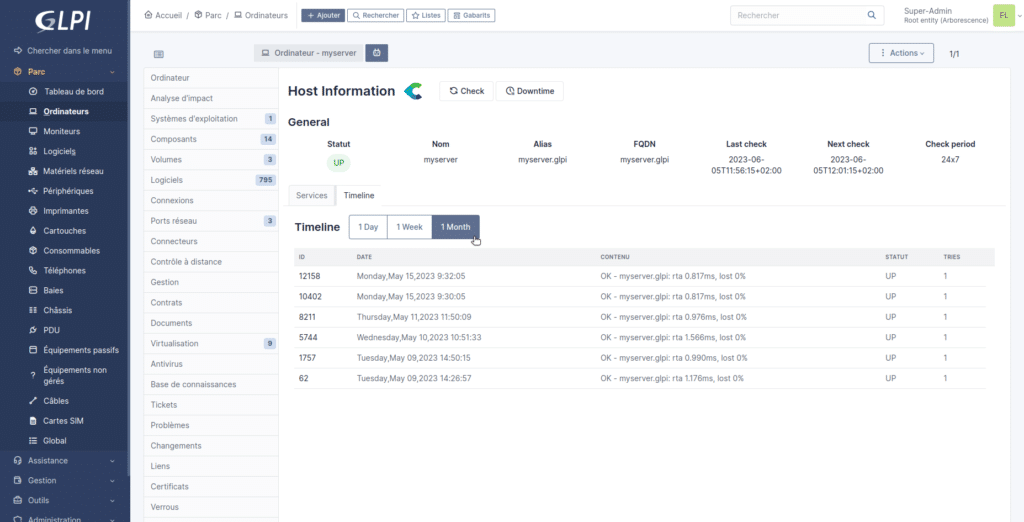 During the presentation, our trainees on the development team were recognized for their significant contributions to the advancement of GLPI.
For instance, Samuel developed a Cloud Inventory plugin. This plugin retrieves information from machines hosted by various Cloud providers and effectively inventories them. Samuel achieved this by utilizing the APIs provided by different providers such as OVHcloud, AWS, Scaleway, Azure, Google, and more. Using this data, the plugin creates or updates machine records within the inventory. Additionally, the plugin functions as a GLPI agent, providing supplementary information on machine backups and backup details. It runs automatically once a day, but can also be executed manually.
Teclib' not only trains its interns but also seeks to retain them through work-study programs. We are always on the lookout for fresh talent! Please, contact us if you wish to work with us: jobs@teclib.com
GLPI highlights in 2022/2023:
The release of version 10 (UI/native inventory), click here
The end of support for version 9.5, click here
Happy birthday GLPI – 20 years! click here.
Next version to come!
Following the presentations, it was time to enjoy a delightful lunch at the Domaine du Tronchay, basking under the beautiful June sun.
After that there were formed cross-functional working groups, bringing together teams from different sectors to brainstorm and propose areas for improvement across various domains, as well as generate fresh ideas.
To conclude the day, we indulged in apero accompanied by live music. The evening continued with a BBQ and party!
Thank you all for coming to share this Teclib' Day 2023, we look forward to seeing you next time!