City of Košice: digital transformation.
City of Košice embarked on an ambitious IT infrastructure transformation program, including the Service Desk project, to centralize and standardize IT operations based on ITIL best practices. This project aimed to integrate multiple IT technician teams and 1500 IT users, consolidating all IT services and requests into a single system. By implementing the GLPI platform and ten ITSM processes, the city aimed to enhance service delivery and provide improved IT services to its employees and affiliated organizations.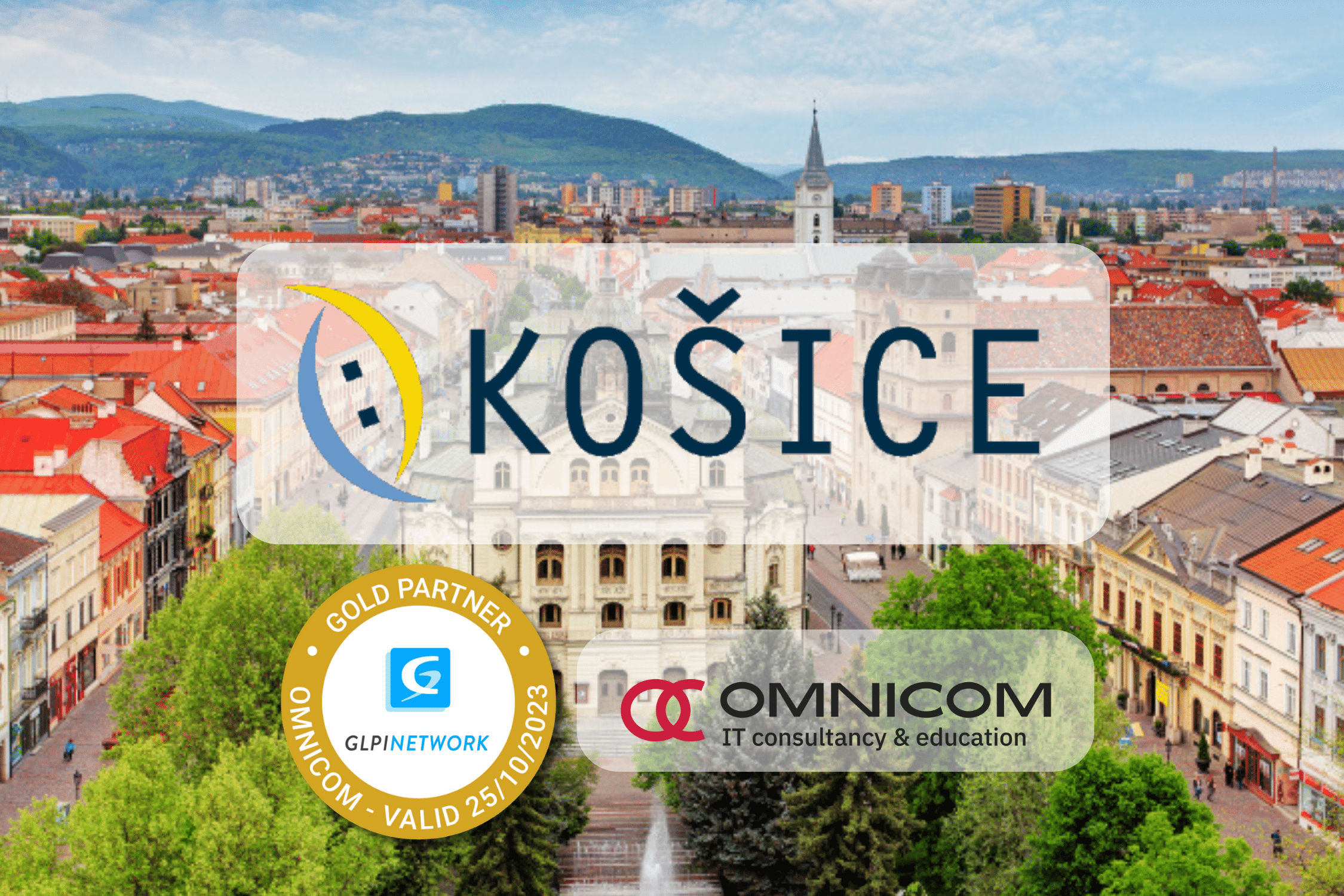 About OMNICOM.
OMNICOM is an official Gold partner of Teclib (GLPI) in Slovakia. Founded in 1995 (more than 15 years in ITSM / ESM business) OMNICOM provides implementation and support services for several service management tools.
They are not just a tool integrator but also an implementer with a focus on delivering high added value through changes in value streams, tools, and people. OMNICOM's services are designed to support multi-entity environments, and they have successfully deployed GLPI to over 200 technicians and more than 3000 assets, including GLPI agents.
Their extensive portfolio of successful projects includes the recent completion of the Service Desk project for the city of Košice, which we will discuss more in detail below.
City of Košice project background.
The city of Košice had an ambitious IT infrastructure transformation program in place, which included several IT projects, one of which was the Service Desk project. The main objective of the Service Desk project was to set up IT and IT operations according to ITIL best practices, centralize IT, and standardize IT operations.
1. The challenge:
The project presented several challenges related to the large scope of the project. One of the most significant challenges was the need to include all existing IT technician teams from 12 city organizations. Additionally, all IT users of the city of Košice, totalling 1500 users, needed to be integrated as well. The objective was to have all IT requirements in one place, which meant consolidating all IT services and requests into a single system, making it easier for users to request services and for technicians to manage them.
The expected outcome was to establish a realistic set of expectations for IT services through the creation of a service catalogue. This catalogue would provide users with a clear understanding of the IT services available to them and the level of service they could expect to receive. Second, the aim was to improve the overall quality of IT services provided to users by implementing ITIL best practices.
2. The goal:
The goal was to design and implement a new system for the management of IT services for the City of Kosice and its included organizations. This involved creating a functional design for individual ITSM processes that would support the management of IT services for the city, in line with ITILv4 best practices. The project team also processed a detailed functional specification for the implementation of the Service Desk using the GLPI platform, an open-source software.
3. Why GLPI?
OMNICOM: "GLPI is a tool that covers and complies with requested scope of ITIL processes. On the other hand, GLPI allows setting up a multi-level structure of organisations (so-called entities) and assigning technician groups to separate organisations, which in this case and for the needs of IT and IT operation appeared to be an ideal solution. Also, thanks to the open-source licensing model, the city IT can also scaleup the usage of GLPI without negative impact to the planned IT budget".
4. Project implementation:
Once the functional design and specification were complete, the team implemented the necessary functionalities and processes in both the test and production environments.
The project implementation involved the introduction of ten ITSM processes (including Incident Management, Service Request Fulfilment, Change Management, Problem Management, Service Asset Management, Configuration Management, Knowledge Management, Supplier Management, Service Catalogue Management, and Service Level Management). For each of these processes, OMNICOM designed workflows and configured GLPI to support them.
OMNICOM: "The scope of the project was challenging. We knew that the big bang approach will be doomed to failure. Therefore, we suggested splitting the implementation process into individual sub-fulfilments, up to three iterations, on the basis of which the design and functionality of ServiceDesk modules were specified. These functionalities were step by step implemented and tested by working groups and defined users.
This resulted in a better adaptation of the new tool and its functionalities for the IT users themselves. It was very important to design the processes in such a way that they reflect the customers' needs and are also not too complex for their application in practice".
A project manager from OMNICOM was assigned to control the project from start to finish, ensuring that it was delivered within the contracted timeline of up to 9 months. However, due to effective management and efficient work processes, the project was delivered within just 7 months, which was ahead of schedule.
To ensure the project was delivered smoothly and with minimal disruption to ongoing operations, it was divided into three distinct phases, each with specific deliverables.
5. Results:
The project aimed to create and implement a Service Desk tool for managing IT services for the City of Košice and its associated organisations. Additionally, it involved the implementation of 10 ITSM processes to improve service delivery. The main outcome of the project is the enhanced ability of IT teams to provide improved IT services to all employees within the city and its affiliated organisations.
OMNICOM: "The project was about to design and implement a Service Desk tool for managing the IT services for the City of Košice and other 12 organisations belonging under the City of Košice. It was also tightly connected with the introduction of 10 ITSM processes.
The main result is increased ability of IT teams to provide better IT services for all employees of the city and related organisations. GLPI also allows them to automate some activities and enable professional management of IT services in accordance with ITIL best practice.
Self-service portal as a single point of contact between end users and IT support was introduced. We immediately see benefits like faster resolved user queries such incidents and requests. Change management helps to protect stability of IT operation and minimise negative impact of changes. IT is now able to measure user satisfaction and gather feedback in order to improve the quality of IT services".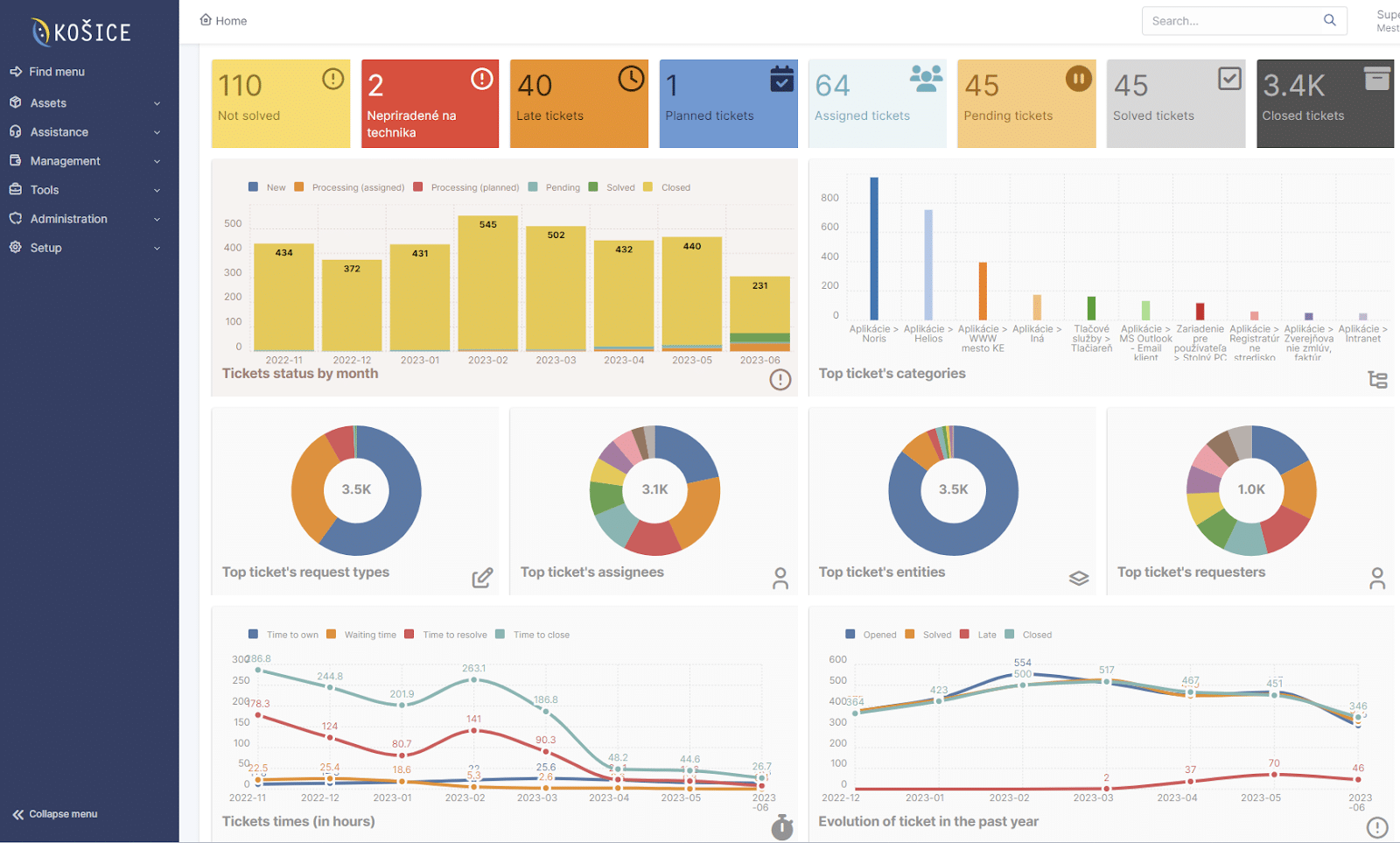 6. Regarding the collaboration with the City of Kosice
The collaboration between OMNICOM and the City of Košice has been characterised by a high level of professionalism. Despite the project's broad scope, OMNICOM was able to complete it successfully in less time than expected. We greatly value the open communication and mutual understanding between both parties, recognizing that this project is a shared effort where collaboration is essential for achieving our goals.
OMNICOM: "Cooperation with the City of Košice was and is at a highly professional level, and despite the wide scope of the project, we managed it to successfully finish in a shorter time than it was defined. We really appreciate open communication and great understanding that this is a common project, where both sides need to collaborate in order to achieve the goals".
Mesto Košice about GLPI:
The ITSM tool procurement selected the GLPI application by Teclib. It is an open-source solution. We required a robust system with support from a local Teclib partner that would ensure that one team could provide assistance from one location. The contested tool meets all our expectations and is open to further adaptations and changes."
Mesto Košice about Omnicom:
The supplier of the GLPI application – Omnicom – was active from the time the tender was announced, it was clear that he cares about this contract. He approached the client professionally, he was interested in clarifying all the details of the assignment. Even during the design of the solution and its implementation, we perceived the positive and professional approach of the project team. We are currently in the phase of post-implementation support and continue to work together to improve the tool. We are extremely satisfied with the supplier."



How can you try GLPI?
If you have not tried GLPI yet, you can start a free 45 day trial on GLPI Network Cloud (no credit card needed!): https://glpi-network.cloud/
If you want to download GLPI on-premise and need assistance, our partners-integrators can support you (you will need to have a valid GLPI Network Subscription).
Do you use GLPI and want to share your experience?
We are proud to state that our solution is used by millions of people worldwide. If you are one of them and you want to contribute the promotion, we invite you to leave your contact details.
We will be delighted to hear your story!